2007 Topps Rookies 1952 Style Baseball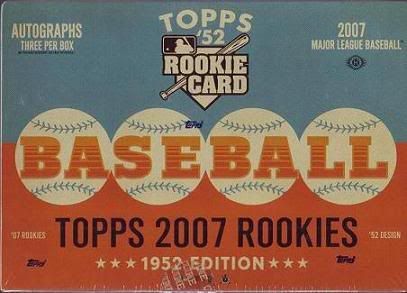 20 Packs per box / 8 Cards Per Pack
221 card set w/25 short prints (List is below the NPN Info)
Set Features;
Each sealed hooby box contains 3 autographs, and the shot at each of the following parallel / inserts
[*]A-Rod Road to 500 Inserts (1:20 Packs), A-Rod Road to 500 Autographs (1:16,000 Packs)
[*]Black Back Parallels (1:6 Packs)
[*]Chrome Parallel (1:3 Packs - #'d/1952), Chrome Refractor Parallel (1:9 Packs - #'d/552), Chrome Gold Refractor Parallel (1:89 Packs - #'d/52)
[*]Debut Flashbacks Inserts (1:6 Packs), Debut Flashabacks Chrome (1:16 Packs - #'d/1952), Debut Flashbacks Chrome Refractor Parallel (1:55 Packs - #'d/552), Debut Flashbacks Chrome Gold Refractor Parallel (1:609 Packs - #'d/52)
[*]Diamond Debut Ticket Relics (1:609 Packs)
[*]Dynamic Duos (1:4 Packs)
[*]Mickey Mantle Reprint Relic
[*]Topps '52 Signatures (3 PER BOX!!!!) Group A 1:4,750 Packs, Group B 1:150 Packs, Group C 1:3,149 Packs, Group D 1:1,049 Packs, Group E 1:54 Packs, Group F 1:9 Packs (List is below the NPN info)
[*]Topps '52 Signatures Combos (1:1,094 Packs)
[*]Topps '52 Signatures Red Ink (1:88 Packs)

Here's what I pulled in our box of 2007 Topps Rookies 1952 Style Baseball.
Base Cards and Parallels

BASE SET : 134/221 (NO DUPES!!!!!).
Black Back Parallels - #5 Troy Tulowitzki, #15 Alex Gordon, #36 Brett Carroll
Chrome Parallel (#d/1952) - #5 Joaquin Arias, 17 Michael Bourn, 22 Nathan Haynes, 30 Chris Basak, #35 Tim Lincecum, 41 Alexi Casilla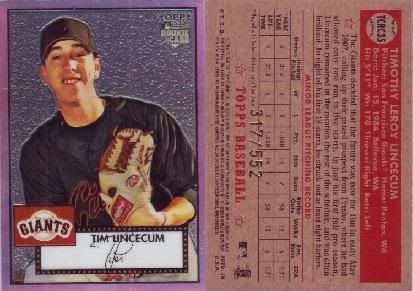 Chrome Refractor Parallels (#d/552) - #6 Jesus Flores, #35 Tim Lincecum, #42, Nick Gorneault
Insert Cards;
A-Rod Road to 500 - #481
Debut Flashbacks - #1 Vladimir Guerrero, #2 Ken Griffey Jr, #3 Pedro Martinez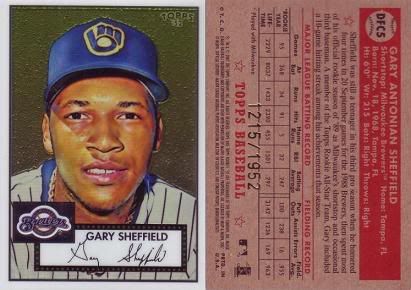 Debut Flashbacks Chrome (#d/1952) : #5 Gary Sheffield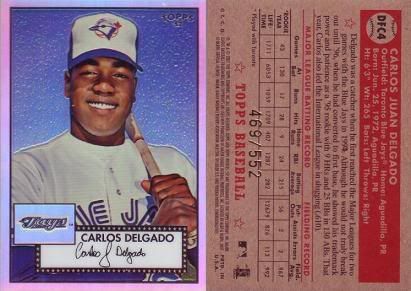 Debute Flashback Chrome Refractors (#d/552) : #4 Carlos Delgado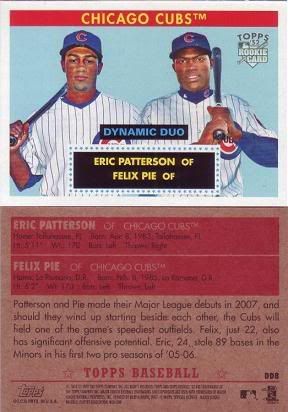 Dynamic Duos - #8 Felix Pie/Eric Patterson, #9 Josh Hamilton/Homer Bailey, #10 Ubaldo Jimenez/Troy Tulowitzki, #11 - Alex Gordon / Billy Butler, #Delwyn Young/Andy LaRoche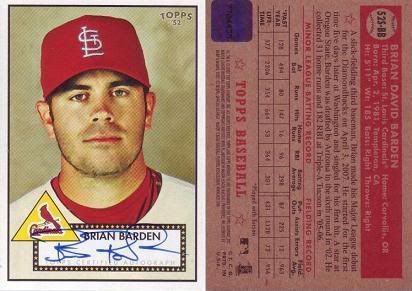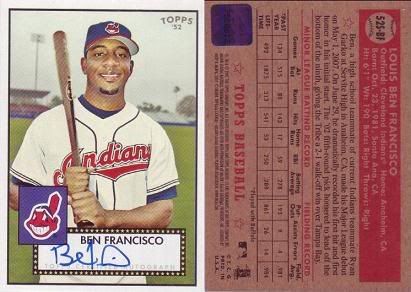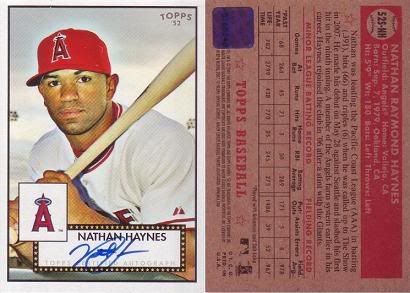 Topps '52 Signatures - #BB Brian Barden, #BF Ben Francisco, #MH Nathan Haynes

Final Thoughts on 2007 Topps Rookies 1952 Style Baseball
All I can say is WOW!!!! Topps did a beautiful job on this set... from the artwork on the cards down to the coalation. Even the box looked nice (it reminded me of the old cigar boxes I kept cards in as a kid). I think this product is for everyone from the kid just starting a collection to the person who will use this for ttm autographs ;) . Speaking of autographs, the 3 per box deal is great, and the autos are directly on the card which makes them even better!!!!
Here's how I would rate this product;
Value = 4
Innovation = 5
Fun and Experience = 5
Rebuy Value = 4

I rate this product an strong A for Topps!
NPN Information;
NPN : 2007 Topps Rookies '52 Edition
PO Box 5176
Avoca, PA 18641
Limit : 1 Per Household
Postmarked by : 2/20/2008
Canadian Skill Question : 20+4x2-10 = ?

I would like to thank Topps along with Trader Retreat for giving me the chance to review this new product.
SHORT PRINTS LIST
#5 - Troy Tulowitzki (Action)
#20 - Ryan Braun (Action)
#30 - Hunter Pence (Action)
#50 - Daisuke Matsuzaka (Action)
#70 - Delmon Young (Action)
#100 - Hideki Okajima (Action)
#130 - Tim Lincecum (Action)
#150 - Phil Hughes (Action)
#170 - Justin Upton (Action)
#190 - Joba Chamberlain (Action)
#202 - John Nelson
#208 - Andy Cannizaro
#209 - Travis Chick
#210 - Francisco Cruceta
#211 - Jose Diaz
#212 - Jeff Fiorentino
#213 - Tim Gradoville
#214 - Kevin Hooper
#215 - Philip Humber
#216 - Juan Lara
#217 - Mitch Maier
#218 - Juan Morillo
#219 - AJ Murray
#220 - CHris Narveson
#221 - Oswaldo Navarro
AUTOGRAPH GROUPS LISTS
Group : A~ Francisco Cordero, Gary Sheffield, Jimmy Rollins, Jorge Posada, Paul Lo Duca
Group : B~ Alex Gordon, Andy LaRoche, Akinori Iwamura, Phil Hughes, Justin Upton, Cameron Maybin, Tyler Clippard, Jarrod Saltalamacchia, Nick Gorneault, Travis Metcalf, Travis Buck, Felix Pie, Joaquin Arias, Joba Chamberlain, Yovani Gallardo, Kevin Kouzmanoff, Kurt Suzuki, Ryan z. Braun, Brian Stokes, Fred Lewis, Ryan Braun, Matt Linstrom, Hunter Pence, Hideki Okajima, Michael Bourn, Andrew Miller, Tim Lincecum, Jon Coutlangus, Jarrod Burton, Chase Wright, Chris Stewart, Jo-Jo Reyes,
Group : C~ Rocky Cherry
Group : D~ Joel Hanrahan
Group : E~ Phil Dumatrait, Brian Wolfe, Mark McLemore, Zack Segovia, Angel Sanchez, Billy Petrick, Brian Buscher, Mauro Zarate, Jason Miller,
Group : F ~ Jensen Lewis, Cory Doyne, Brett Carroll, Alberto Arias, Joseph Bisenius, Matthew Brown, Alexi Casilla, Troy Cate, Edwar Ramirez, Levale Speigner, Aaron Laffey, Joakim Soria, Brian Barden, Ben Francisco, Darren Clarke, Nathan Haynes, Brian Esposito
Support the sponsors that support Trader Retreat.